Canal Days 2016
Fairport Canal Days has a no pet policy. Thank you.
One of the most popular arts festivals in New York State, Fairport Canal Days sets sail June 4th and 5th, with an opening chicken BBQ and concert on the evening of June 3rd. Join us and enjoy over 200 artisans, many fine food vendors, and great live music. It's family friendly, fantastic fun.
Chicken BBQ – Friday June 3, 4:30 to 9:00 pm
Canal Days Artisans, Vendors, and Entertainment – Saturday June 4, 10:00 am to 6:00 pm and Sunday, June 5, 10:00 am to 5:00 pm
Check out our line-up of artisans, vendors and music.
Canal Nights 2016

Spotlight Studios House Band
Allegro featuring Bill Tiberio
Free admission
Chet Catallo and the Cats
Tommy Brunett Band
$5 admission - tickets on sale now!
Celebrating 40 Fun-Filled Years of Canal Days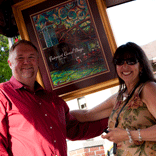 Fairport Canal Days – celebrating our 40th year as one of the premier juried art festivals in the Northeast alongside the scenic village on the historic Eric Canal.
Over 200,000 attend annually
Located in Fairport, NY: a "front-porch" friendly village, located on the scenic Erie Canal
Sponsored by the Fairport Perinton Merchants Association
Be part of the festival as an artisan, food or other vendor, by viewing our applications.