Celebrating 42 Fun-Filled Years of Canal Days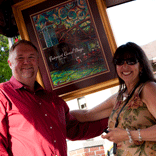 Fairport Canal Days – celebrating our 42nd year as one of the premier juried art festivals in the Northeast alongside the scenic village on the historic Eric Canal.
Canal Days Poster Request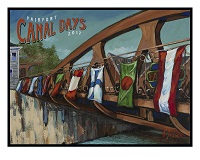 Attention Artists: Submit your original work for consideration to be the next annual commemorative poster. Win $250 cash prize and free booth at Canal Days. Deadline: March 1, 2018. The entry form and details about the contest can be found here.
Canal Days 2018
Fairport Canal Days has a no pet policy. Thank you.
One of the most popular arts festivals in New York State, Fairport Canal Days sets sail June 2nd & 3rd, with an opening chicken BBQ and concert on the evening of June 1st. Join us and enjoy over 200 artisans, many fine food vendors, and great live music. It's family friendly, fantastic fun.
Chicken BBQ – Friday June 1, 4:30 to 9:00 pm
Canal Days Artisans, Vendors, and Entertainment – Saturday June 2, 10:00 am to 6:00 pm and Sunday, June 3, 10:00 am to 5:00 pm